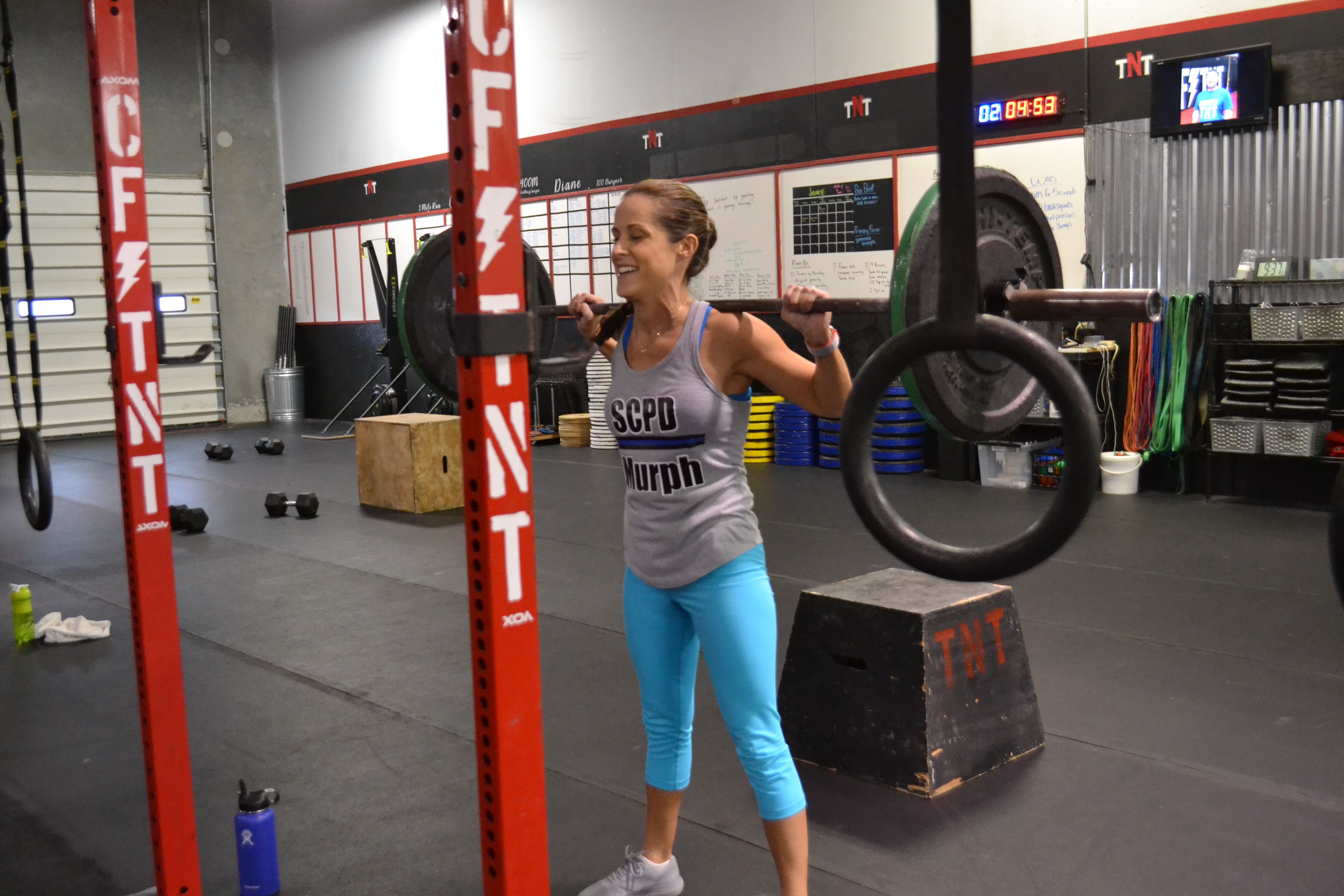 Wow, what an honor! I discovered and fell in love with CrossFit TNT 4 ½ years ago. My neighbor and friend had tried to talk me into it for a long time, but I was afraid to give it a try. I wish I hadn't wasted so much time! I played a variety of sports growing up and in high school and college. Once sports were done I had a desire to stay in shape but HATED going to the gym and trying to figure out what to do.
It was intimidating to walk through the door that first time…but my worries were quickly put at ease. I discovered that workouts could be scaled to my abilities, I was greeted with friendly faces as soon as I walked in the door and I found coaches that really cared about me and pushed me when I needed it. I LOVE the variety of the workouts and the intensity of them. I love walking out the door knowing I worked hard in the last hour. I look forward to every single workout and wish I could do CrossFit every single day.
CrossFit helped me get in shape after my 3
rd
pregnancy and stay in shape during my 4
th
pregnancy and then afterward. I credit CrossFit for being able to run in the Special Olympics Law Enforcement Run (from Ameristar Casino onto westbound 70, ending at Cave Springs) 6/7 months pregnant one year and then another year in full uniform. I've learned how to push myself and chip away at physically hard tasks. CrossFit has also helped me in the physical aspects of my job.
CrossFit TNT doesn't just have great workouts, but it's filled with great people working out alongside me. Workouts are full of encouragement and laughter (especially with my 9am peeps!). I walk out of my workouts feeling refreshed and filled instead of drained and emptied.
I try to get as many of my friends as possible to the free CrossFit Bring a Friend Day that TNT has once a month. Not because of any incentives, but because I want to share my love of CF with others and have them reap the many benefits of being a member of CrossFit TNT.