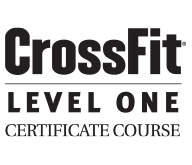 We are hosting a CrossFit Level 1 Course June 27-28, 2015.
"The Level 1 Certificate Course introduces the methodology, terminology, and movements foundational to CrossFit. The course is comprised of lectures, movement "break out" sessions for hands-on practice, and workouts. These elements enable participants to better apply the program for personal use and to begin training others with CrossFit." – Crossfit.com
Make sure to sign up quick while spots are still available! You can sign up here.