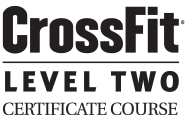 We are hosting a CrossFit Level 2 Course July 18-19, 2015.
The goal of the course is for students to leave with a better understanding of:
Essential mechanics of functional movement.

Fault identification and correction.

Essentials for an effective trainer.

Effective programming via design and evaluation.

Class management strategies for effective group workouts

You can sign up by clicking this link.
https://www.regonline.com/builder/site/Default.aspx?EventID=1707829